Welcome to the world of rubber stamping!
Rubber stamping is not only a versatile and rewarding hobby...it's a lot of fun! My hope is that this website will help to inspire and educate you about the art of rubber stamping and to also share my passion (which is really bordering on obsession...just ask my husband!) with you.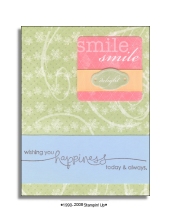 Stamparoo Sue's
Featured Project
Today's card is a real "feel good" greeting card. After reading "Smile", "Delight" and "Happiness today & always", this card is sure to lift the mood of the reader. The Certainly Celery patterned paper was used for backdrop...
(More)
Designed by: Stamparoo Sue
2010-2011 Stampin' Up! Idea Book & Catalog
The current Stampin' Up! Catalog contains all available SU! stamp sets, inks, papers, card stock and accessories. Need ideas? Here's 210-pages of inspiration!
Click to download the catalog...